The painful situation with water supply in Central Asia is known all over the world. Most tragically this situation is illustrated by the destroyed ships on the sandbank far from a coastal line of that what was called before as the Aral Sea. It is obvious that preservation and maintenance of qualitative water supply became the critical strategic task, with which countries of Central Asia and, in particular, Kazakhstan today have met.
The First Central Asian International Exhibition and Conference devoted to water and to water technologies - WaterTech Central Asia 2008 - were organized aiming to solve the urgent problems and to adopt the needed solutions on future water supply in Central Asia. Sponsors of events are the exhibition companies Kenes International (Israel) and Iteca (Kazakhstan) with assistance of the Interstate Coordination Water Commission, Committee for Water Resources of the Ministry of Agriculture of the Republic of Kazakhstan, and SIC ICWC.
Exhibition and Conference were held in Almaty, Kazakhstan in September 16-18, 2008 at the exhibition building "Atakent-Expo".
40 companies from Germany, Israel, India, Italy, Kazakhstan, Netherlands, Poland, Russia, France and Czech Republic took part at the exhibition.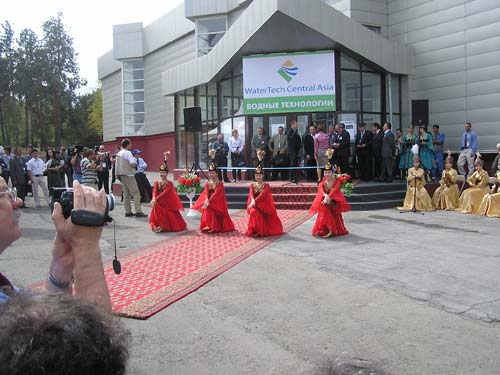 Mr. A. Esimov, Mayor of Almaty city, in opening the exhibition noted an urgency of the exhibition "Water and Water Technologies" in the megalopolis being a large business centre of the country, where the plenty of the enterprises, bulk of people, and municipal and rural economy are concentrated in the suburban zone.
"Today the water resources problem is one of the most important issues all over the world. From year to year the water deficit is increasing and we have to treat water resources with care and to search new technologies for water economy. It is very important that various countries here can exchange experiences on advanced technologies in this sphere. We welcome all participants, sponsors of exhibition, and distinguished guests and wish you the pleasant staying in our town and successes in implementing of project", - Mr. Akhmedjan Esimov said.
Anatoly Ryabtsev, Chairman of the Committee for Water Resources of the Ministry of Agriculture, Republic of Kazakhstan said: "The potable water deficit in Kazakhstan is a result of its geographical location and requires water conservation, new technologies, and cooperation with neighboring countries. It is needed to study the existing positive experience of the problem solution by other states".
More than 100 experts from Central Asian countries and Israel took part at the conference.
Anatoly Ryabtsev, Chairman of the Committee for Water Resources and Professor Uri Shani, representative of the Ministry of Infrastructure of the State of Israel on the water resources issues, took part at the Opening Ceremony.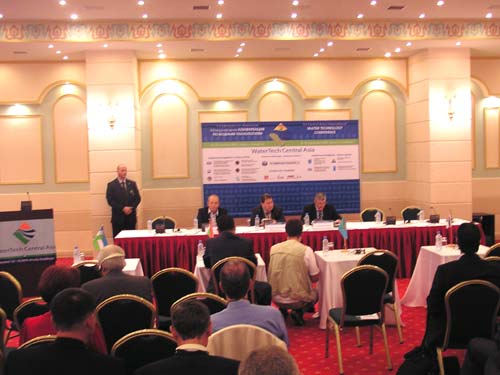 The conference was organized as a number of plenary meetings on the themes:
"The impact of climate change on the global ecology and water resources"
"Integrated water resources management"
"Water reuse"
"Water technologies and financial aspects"
"Water-saving technologies, water-measuring and irrigation"
"Land reclamation technologies for construction, reconstruction and operation of irrigation systems"