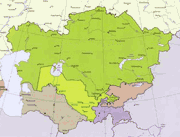 Technical Assistance «Improvement of Shared Water Resources Management in Central Asia» (ADB RETA 6163) is financing by Asian Development Bank.
Goal and Purpose. The overall goal of the TA is to achieve sustainable and efficient water management in the region. The purpose of the TA is to help the CARs strengthen their cooperation in the management of shared water resources in the Aral Sea Basin and other transboundary basins.
The long-term economic, political, and social stability is directly dependent on the sustainable management of the subregion's shared water resources, and reducing tensions among riparian states originating from transboundary water disputes, will improve mutual trust and create an atmosphere conducive to greater economic and political cooperation among the states. During the Regional Consultative Meeting of Senior Officials of CARs in August 2001 in Manila, the CAR governments formally requested ADB's assistance for subregional water management issues. ADB responded to this and other specific requests made by CARs by supporting high-level policy dialogues, forums, and consultations on regional water management issues. With its emphasis on the country ownership and consensus-based approach, ADB's supports to promote regional cooperation among CARs have gained increasingly strong support and appreciation in the subregion.
Clearly, promotion of interstate cooperation for improved management of shared water is a challenging task. Despite continuing difficulties, CARs invariably recognize the need, and requested ADB's assistance. The proposed regional technical assistance (TA) 8 focuses on specific, and practical targets where substantially positive progress has been made. The proposed TA has been designed through extensive consultation with governments, civil society, and donor agencies that are active the region, including the World Bank, United Nations Development Programme, United States Agency for International Development (USAID) and Swiss Development Corporation. (SDC).
Outputs
The TA will produce three key outputs.
First, the TA will develop a working interstate water management mechanism on a selected small river basin to reduce the current barriers to the implementation of collaborative and integrated water management of cross-border rivers. Specific criteria have been developed to measure the progress and performance of the pilot interstate river basin management body to be supported.
Second, the TA will help the CARs to jointly move forward with concrete steps on selected high priority regional water policy issues, according to specific performance indicators, including the relevance, immediate impacts, and extent of ownership/participation.
Third, the TA will strengthen the capacity of key regional water management institutions and their national affiliates on clearly defined and agreed mandates, according to the key result areas to be achieved through the TA.
Components
A. Improved Transboundary Water Management on a Pilot Basis (Chu-Talas)
B. Facilitation of Water Policy Discussions
C. Regional Water Management Capacity Building
---

Web site of Transboundary Water Commission on Chu and Talas Rivers
News
2007
4-7 December 2007, Tashkent. Working meeting to discuss regional water policy
details
11 October 2007, Khodjent. Meeting of the Regional and National Working Groups
details
2-3 October 2007, Tashkent. Working meeting to discuss regional water policy
details
21-22 September 2007, Tashkent. Working meeting to discuss regional water policy
details
31 July – 2 August 2007, Bishkek. ICWC Members Work Meeting within the framework of project
details
30-31 May 2007, Tashkent. Working meeting to discuss regional water policy
details
25-26 April, Almaty. Working meeting to discuss regional water policy
details
3-4 April, Tashkent. Working meeting to discuss regional water policy
details
8-10 March, Ashkhabad. Working meeting to discuss regional water policy
details