RIVERTWIN | A Regional Model for Integrated Water Management in Twinned River Basins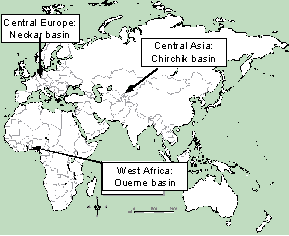 The project objective is to develop an integrated regional model for strategic planning of water resources management (WRM) in twinned river. Three river basins were selected for modeling in different regions (the Neckar river, the Oueme river, and the Chirchik river in Germany, Benin, and Central Asia, respectively). Based on modeling and subject to social, economic, and ecological sustainability indicators, it is planned to elaborate integrated development scenarios for each of the river basins as a basis for basin water management plans. The project is coordinated by partners from Germany.
SIC ICWC carries out research for transboundary Chirchik river basin, which is located within the area of three republics, such as Kazakhstan, Kyrgyzstan, and Uzbekistan.