CHIRCHIK BASIN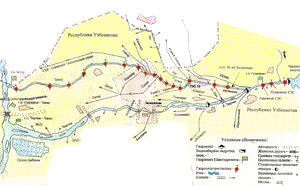 The Chirchik river subbasin is, at first site, a well-supplied catchment, where water demand is much less than expected growth of water consumption in quite diverse industrial and agricultural region of the Syrdarya river basin.
The sub-basin is characterized by its socio-economic development (a lot of industrial plants that are not operated to their full capacities; cascade of hydropower stations operating together with heat power stations) and its recreation value due to close location to Tashkent city. Besides, here recreational zones are traditionally developed thus raising environmental concern. This is supplemented by environmental requirements of upper watershed, river valleys and channels, as well as of urban habitation quality, particularly drinking water quality. Thus, specific contradictions and competitiveness take place in the sub-basin:
between power generation and irrigation regimes;
between upper watershed and flow dispersion zone;
between water diversion quantity and quality;
between recreation and hydropower needs;
between growing industrial and municipal water consumption and the increasing understanding of environmental needs.
Moreover, here intestate management of the Syrdarya river basin should be taken into account and ensuing obligatory releases from the Chirchik river to the Syrdarya river and the Keles river and certain limitations occurring in extreme year, as it was in dry period 2000-2001 and in humid period 2003-2004.
At the same time, there is an opportunity and plans of Uzbekistan to divert a share of Chirchik streamflow and transfer it to Hunger Steep zone.
Besides, Tashkent city and its outskirts are very attractive for many citizens of Uzbekistan and, therefore, there is a trend to formal and informal migration to this zone, as well intensive population of Keles valley in the territory of Kazakhstan and agricultural development of the valley.
Thus, under the work package, there exists a clear need to analyze current status of water use both at present (and past) levels of socio-economic development and environmental requirements and under various scenarios of socio-economic development in Chirchik-Akhangaran basin administration of irrigation system (CABAIS), with outputs in form of respective analytical reports and development forecasts (scenarios) in social, economic (including industry, agriculture, power engineering, recreation), and environmental directions.
CHIRCHIK BASIN PROPERTIES
Geographical properties:
Latitude 41.20
Longitude 69.11
Area river basin: 14 900 km2
Average mean flow: 220 m3/sek
Main tributaries:
Chatcal, 7500 m3/sek
Pskem, 3400 km2, 78 m3/sek
Koksu, 502 km2, 25 m3/sek
Demographic properties:
Population in investigated region consists of more than 3,5 mln people.
Water resources and uses in the basin:
Average annual available surface water recourse 6937 mln m3.
Average annual available groundwater recourse 15 700 mln m3.
Capacity of reservoirs 2030 mln m3.
Organisations and institutions responsible for Integrated Water Resources Management (IWRM) in the basin:
Ministry of agriculture and water resources
Ministry of energy
Trest Vodocanal