Water management infrastructure of the Syrdarya River basin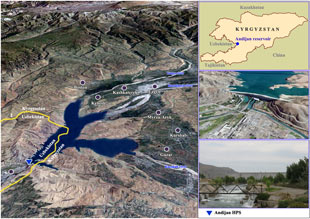 Andijan reservoir and HPS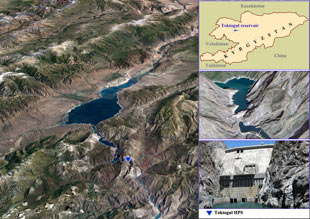 Toktogul reservoir and HPS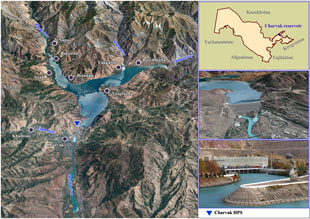 Charvak reservoir and HPS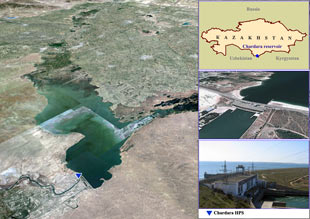 Chardara reservoir and HPS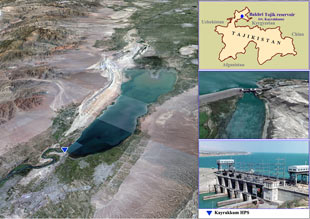 Bakhri Tojik reservoir and Kayrakkum HPS
The main tasks water basin system is regulation of flow, delivery of water to water users by the irrigation and water supply network and protection of environment.
Regulation flow in water farming system of Syrdarya carry on by 13 water reservoirs with common capacity of 35.0 km3 and useful 27 km3.
There are five water reservoirs on Syrdarya and its tributaries:
- Toktogul reservoir: total capacity is 19.5 km3, including effective capacity of 14 km3.
- Andijan reservoir: total capacity is 1.9 km3, including effective capacity of 1.75 km3.
- Kayrakkum reservoir: total capacity is 4.03 km3, including effective capacity of 2.55 km3.
- Charvak reservoir: total capacity is 2.05 km3, including effective capacity of 1.6 km3.
- Chardara reservoir: total capacity 5.4 km3, including effective capacity of 4.4 km3.
All principal hydrostructures Syrdarya river has integrated goal – irrigation, power generation, water supply, control of floods, recreation and fishery. Toktogul reservoirs with Hydropower stations plays principal role in this set thank to it higher position, commanded on area (more than 1.7 mln. ha), big accumulation capacity (volume more than 1.7 average annual flow of Naryn river) and huge energy potential (10.4 mln kwh) Average annual guarantee of this reservoirs 10.4 km3 with deviation from 7.5 km3 in watering year up to 13.5 km3 in deficit year and multiyear volume capacity close to 6 km3. Beside this reservoirs Andijan and Chirchik also participates in multiyear regulation.
Irrigation capacity in Syrdarya river close to usage of full potential. The command area in basin consists from two parts:
- on local sources (creeks, ground waters, small tributaries – not connected with transboundary waters – small irrigation systems (0.5-10 th. ha);
- on transboundary sources – big scale irrigation systems with irrigated area up to 500 th. ha (Hunger Steppe on territory Kazakhstan, Tajikistan and Uzbekistan, Kzyl-Kum and Arys Turkestan system in Kazakhstan and so), part from which based on the pump lift upto 400 meters.


Irrigated area in the Syrdarya River basin
Country

Irrigated area brutto, thousands ha

1980

1985

1990

1995

2000

2005

2010

Kazakhstan

696,0

705,9

752,0

758,4

769,7

714,3

750,0

Kyrgyzstan

400,9

402,5

396,1

403,9

405,0

388,5

384,8

Tajikistan

253,0

260,0

288,1

291,6

296,3

268,7

303,7

Uzbekistan

1781,0

1893,6

1960,8

2076,0

2062,9

1970,3

1962,8

Total the basin

3131

3262

3397

3530

3534

3342

3401
Very strict interconnection and sometime overlapping exists between these two parts of command area, their sources and interrelation. As a result of intermountain displacement of irrigation system local sources participates in water release to transboundary zones, create additional flow of groundwater and return flow to below located transboundary systems.