9th World Water Forum: Dakar, Senegal, 21-26 March 2022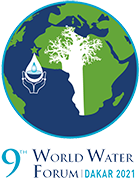 "Water security for peace and development"
From 21-26 March 2022, participants from every horizon, including political and economic decision-makers, multilateral institutions, academia, civil society and the private sector will gather in Dakar, Senegal for the 9th World Water Forum.
Building upon previous World Water Forums, the 9th Forum will, through an innovative framework, seek to identify, promote and implement concrete responses and actions for water and sanitation in an integrated way.
It will be the first time the World Water Forum, the largest international water-related event, will be held in sub-Saharan Africa.
The "Dakar 2022" Forum will focus on four priorities:
1 - Water Security and Sanition
2 - Water for rural development
3 - Cooperation
4 - Means and Tools



9th World Water Forum Framework for Action (with related SDG targets)



Dakar Declaration a «Blue Deal» for Water Security and Sanitation for Peace and Development


Central Asia towards the 9th World Water Forum