From the rostrum of the UN General Assembly, Kazakhstan has been active in strengthening international security and its different dimensions, including environment, water, energy, and food. Nuclear disarmament, Kazakhstan's vision on building a new world order and reformation of the UN system were addressed almost in all statements of Kazakhstan at the General Assembly. Establishment of collective security bodies in Asia, regional interactions in Central Asia, and the situation in Afghanistan in connection with terrorism, extremism and drug trade are in the next priority block of issues for Kazakhstan. Environmental problems, particularly, consequences of the Aral Sea catastrophe and the Semipalatinsk Test Site round out the top ten issues that are of particular concern for Kazakhstan.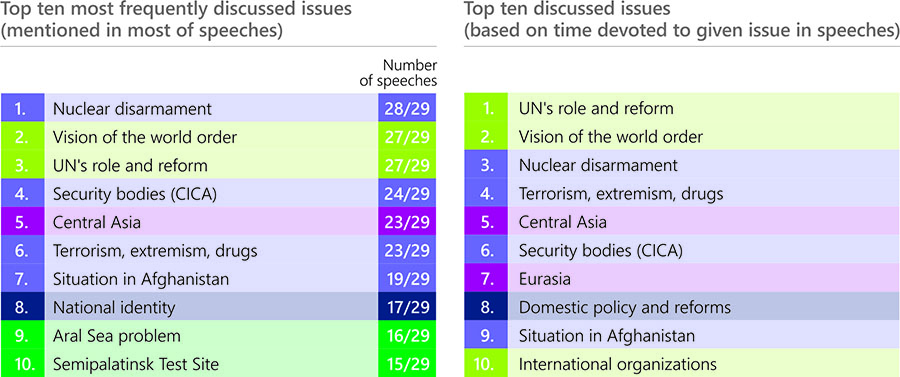 The efforts of the Kazakh diplomacy at the UN platform are focused on supporting the following main pillars of the only universal Organization: security, sustainable development, and human rights. Kazakhstan is committed to continue paying prior attention to those issues in its activities under umbrella of main and subsidiary UN's bodies. This particularly concerns the expected membership of the Republic of Kazakhstan in the UN's Economic and Social Council and the UN Human Rights Council in 2022-2024, if elected. The Kazakhstan's MFA will also continue putting into life the initiative brought by the First President of RK – Yelbasy N. Nazarbaev - during the 47th session in 1992 on annual contribution by UN member-countries of one percent of their military budgets to sustainable development goals.
Kazakhstan is an active actor in international efforts on counteracting present security threats and continues playing constructive mediating role in negotiation of complex international problems. Kazakhstan supports the declaration by the UN Secretary-General A. Guterres of the remaining time till 2030 as the Decade of accelerated action for SDGs and the UN efforts for building wider international cooperation and coordination of country efforts against COVID-19.
Thematic priorities by decade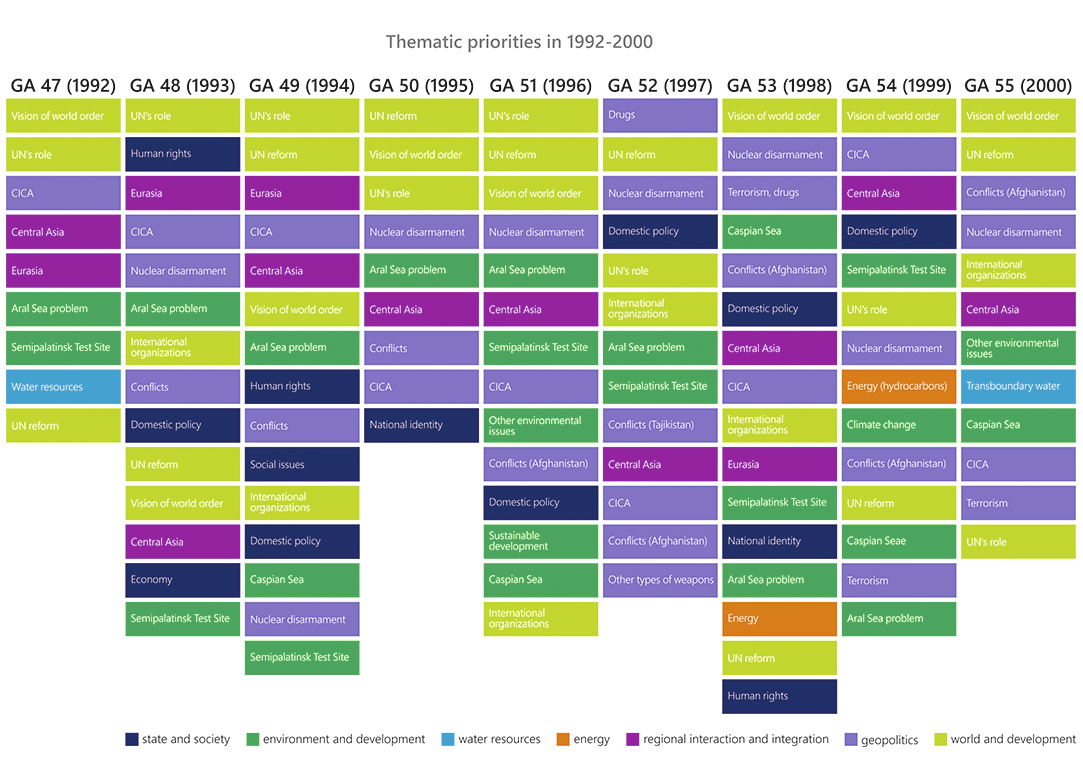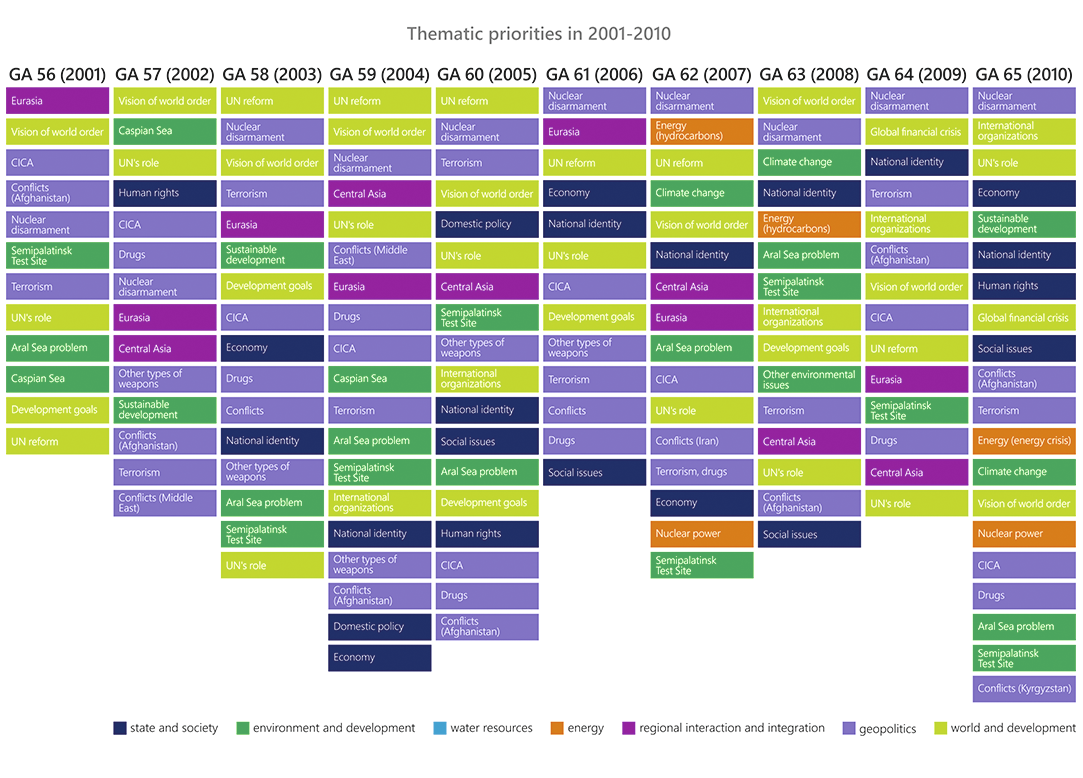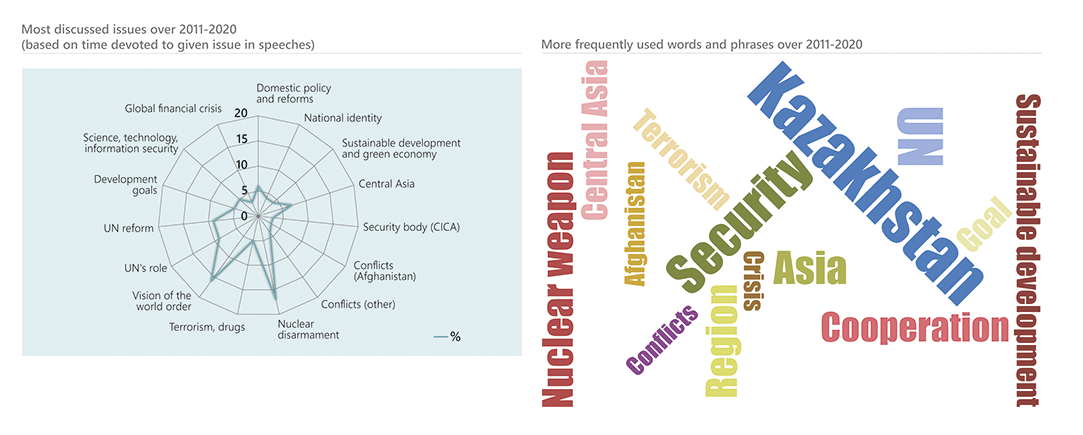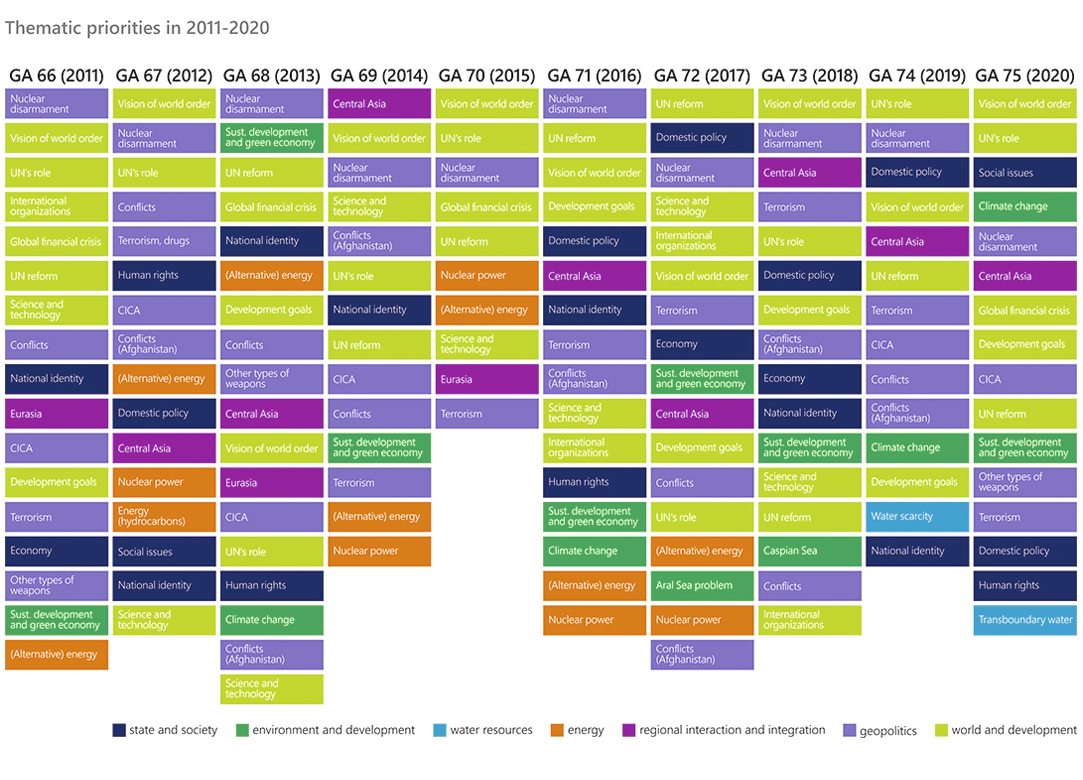 Key initiatives put forward by Kazakhstan at UN GA
Call a Conference on interaction and confidence-building measures in Asia (CICA) (47/1992)
Call a special UN session or conference to discuss the post-confrontation era
Create a UN regional center or commission on preventive diplomacy in Central Asia, with the headquarters in Alma-Ata (47/1992)
Establish a United Nations Peacekeeping Fund through the voluntary contribution by States of 1 per cent of their military budgets (47/1992)
Establish a Eurasian Union (EAU) (49/1994)
Form Kazakhstan, Kyrgyzstan, and Uzbekistan units of armed forces under the UN's umbrella
Establish a UN Commission for Central Asia (joint ECE and ESCAP program) (50/1995)
Create an inventory of global issues under the auspices of the UN (S-19/1997)
Establish a register of global environmental problems (62/2007, 58/2003)
Give the International Fund for saving the Aral Sea the status of UN institution (at the Earth Summit in 2002, 62/2007)
Establish a permanent council of regional organizations under the authority of the UN Secretary-General (58/2003, 59/2004)
Hold congresses of leaders of world and traditional religions (58/2003)
Set the International Day against Nuclear Tests (64/2009)
Adopt a universal declaration on a nuclear-weapon-free world (65/2010)
Adopt a global energy and environment strategy (66/2011, 68/2013)
Establish a UN Regional Centre for Sustainable Development Goals (SDGs) in Almaty (69/2014)
Develop a Global Strategic Initiative plan 2045 (70/2015)
Initiative for upscaling of the global balance G-Global (67/2012)
Establish a unified world network to counteract international terrorism and extremism under the auspices of the UN (70/2015, 71/2016)
Establish a network of regional centers for disease and biosafety control under the UN umbrella (75/2020)
Establish an international biological safety agency to be reported to UN Security Council (75/2020)
Declare the year of mobilization of volunteers for development (75/2020)
Establish a regional water-energy consortium (75/2020)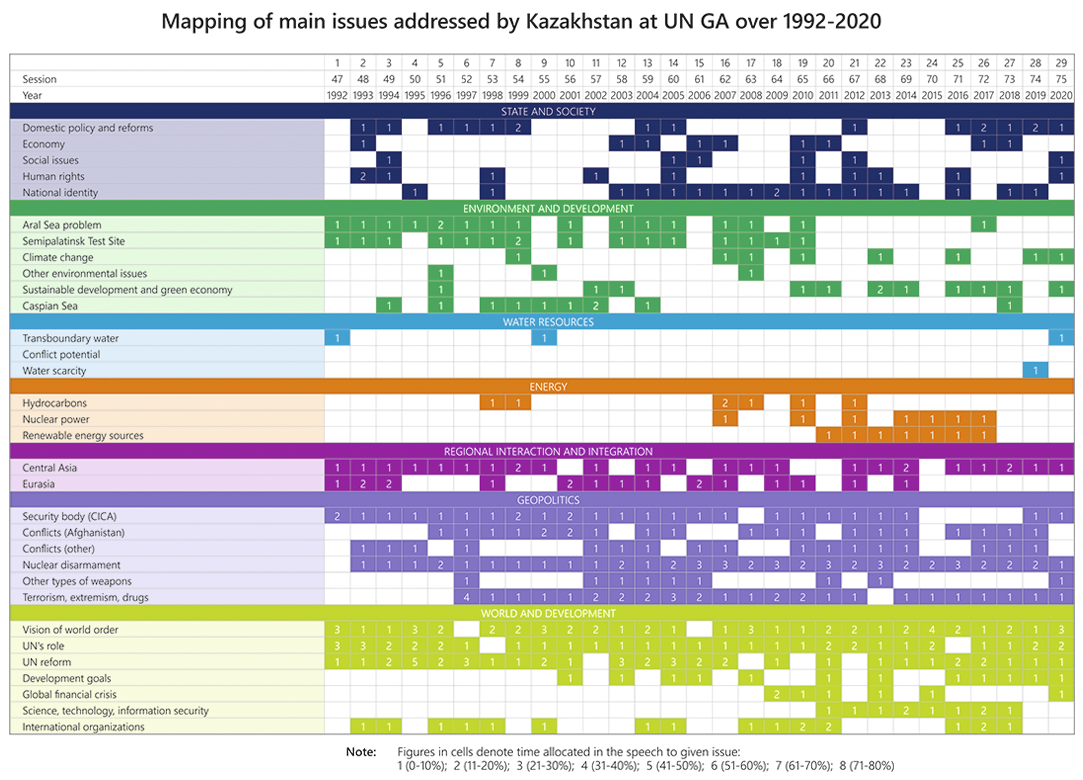 Experts' views
Among key successes of the Kazakh diplomacy in the United Nations experts list pushing forward of nuclear disarmament issues and the declaration of August 29 as the International Day against Nuclear Tests, convening of the Conference on interaction and confidence-building measures in Asia, receiving by IFAS of the status of observer in the UNGA, as well as the initiatives on establishment of the register of global environmental problems under the UN auspices, adoption of the Global energy and environment strategy and the Eurasian Pact on Stability of Energy Supplies to ensure global energy balance, and establishment of the UN Special Programme for Central Asian economies. The most important events that underline the significance of the region in the global agenda were the assignment of the Kazakhstan's representative K.-J. Tokaev as the UN Deputy Secretary-General and the Director of the UN division in Geneva in 2011–2013, and election of Kazakhstan as a non-permanent member of the UN Security Council in 2017-2018.
In experts' opinion, the main risks in the region are those of anthropogenic origin (pollution of water, land and air, accumulation of hazardous wastes, water-borne infectious diseases) and natural origin (earthquakes, floods, droughts, shortage of water, and epizooty). The UN Regional Hub, opened in Almaty in 2018, allows for timely information of the UN Headquarters and UNGA sessions on problems that need attention of the world community. Given the COVID-19 outbreak, economic and social risks come to the forefront and followed by environmental risks.
Experts believe that the main area in the future work of Kazakhstan with the UN is to collectively develop mechanisms for effective interaction to implement international environmental conventions related to water, climate change, desertification, and biodiversity conservation. They also stress the need for using IFAS' huge potential and coordinating role for integration of CA states to push forward key initiatives, solve water-energy and environmental problems in the region, implement events as part of the International Decade for Action "Water for Sustainable Development, 2018–2028", and achieve SDG6 on water. It is necessary to align UN SPECA projects with the objectives and tasks set in documents agreed by the countries on the Aral Sea basin problems. Attention should be drawn to enhancement of regional cooperation in CA in other fields, including stabilization of situation in Afghanistan, poverty reduction, trade and economic cooperation, development of transport corridors (Belt and Road, Europe-Asia, etc.), terrorism-extremism, and cyber security.

Prof. S. Ibatullin:
"More than ever before, existential threats of climate and demographic, economic, geopolitical, and environmental challenges in Central Asia necessitate strengthening of strategic interstate cooperation on the base of an independent multidisciplinary research platform on water, environment, energy and economic security".




T. Sarsembekov:
"Poor trade and economic relations and investment cooperation; lack of interaction on implementation of multilateral environmental agreements related to water, desertification, climate change, and biodiversity conservation; poor coordination of activities of international regional organizations on water-energy and environmental issues make it harder to solve water insecurity issues and lead to increased competition for water. Such regional problems are widely spread all over the world and could become the topics for discussion at UN sessions so that to collectively develop interaction mechanisms for addressing challenges".


S. Bekmaganbetov:
"All risks are interlinked and require a particular and priority approach to their mitigation. In my view, given the COVID-19 outbreak, economic and social risks come to the forefront and followed by environmental risks".