Uzbekistan became a member of the UN on March 2, 1992. Since then, the country's representatives have raised their concerns and proposed solutions to global and regional problems at general debates of the General Assembly.
At the global level, Uzbekistan has regularly called for reforming the UN in order to better reflect new realities and ensure fair geographical and regional representation of developed and developing countries in UN's governing bodies.
Matters related to regional security and development received the lion's share attention indicating Uzbekistan's commitment to the "from regionalism to globalism" principle. The key issues on the regional agenda included: situation in Afghanistan; terrorism and extremism control; spread of drugs; creation of a nuclear-weapon-free zone in Central Asia; integration processes; water sharing; and, mitigation of the Aral Sea catastrophe.
Building a democratic State and national identity were among prevalent domestic concerns. Although social issues (education, labor, science, health-care) were given less attention, Uzbekistan has put forward an important "social" initiative by proposing to develop a special UN program for educational and awareness-raising work among youth to make young people resistant to extremist ideology and develop and adopt a UN convention on youth rights.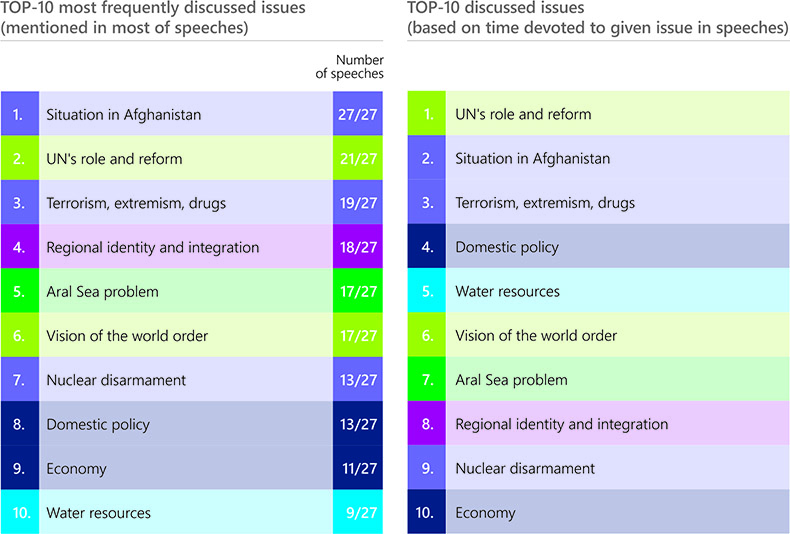 Thematic priorities by decade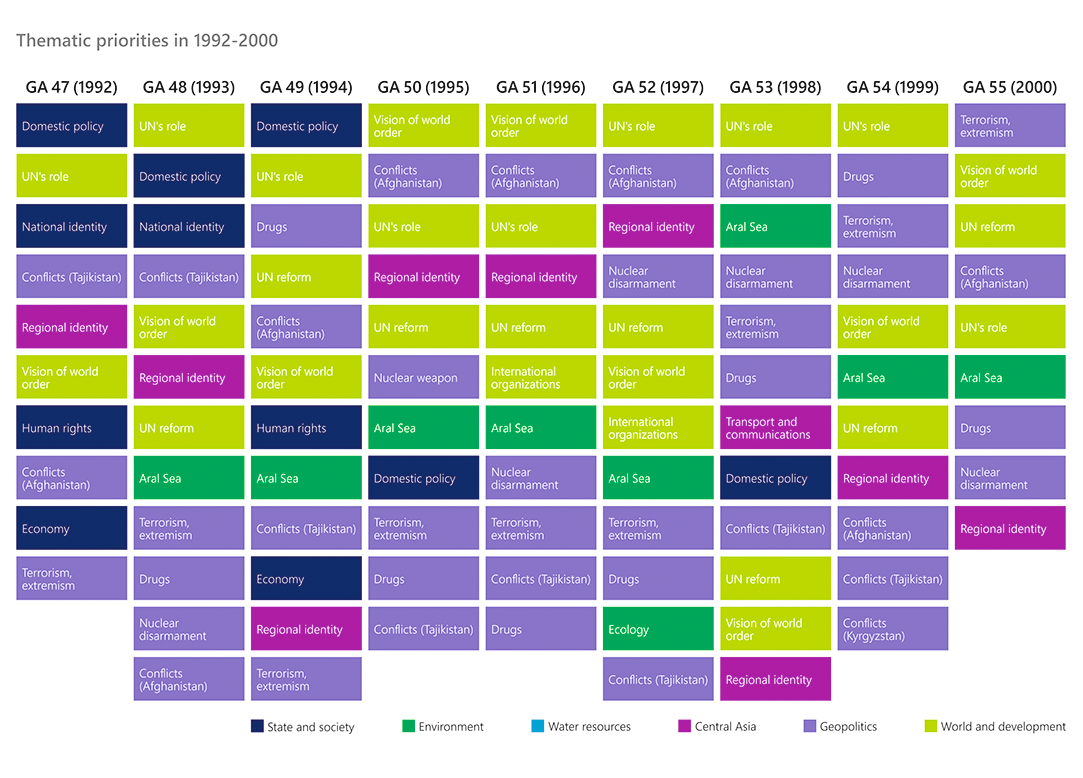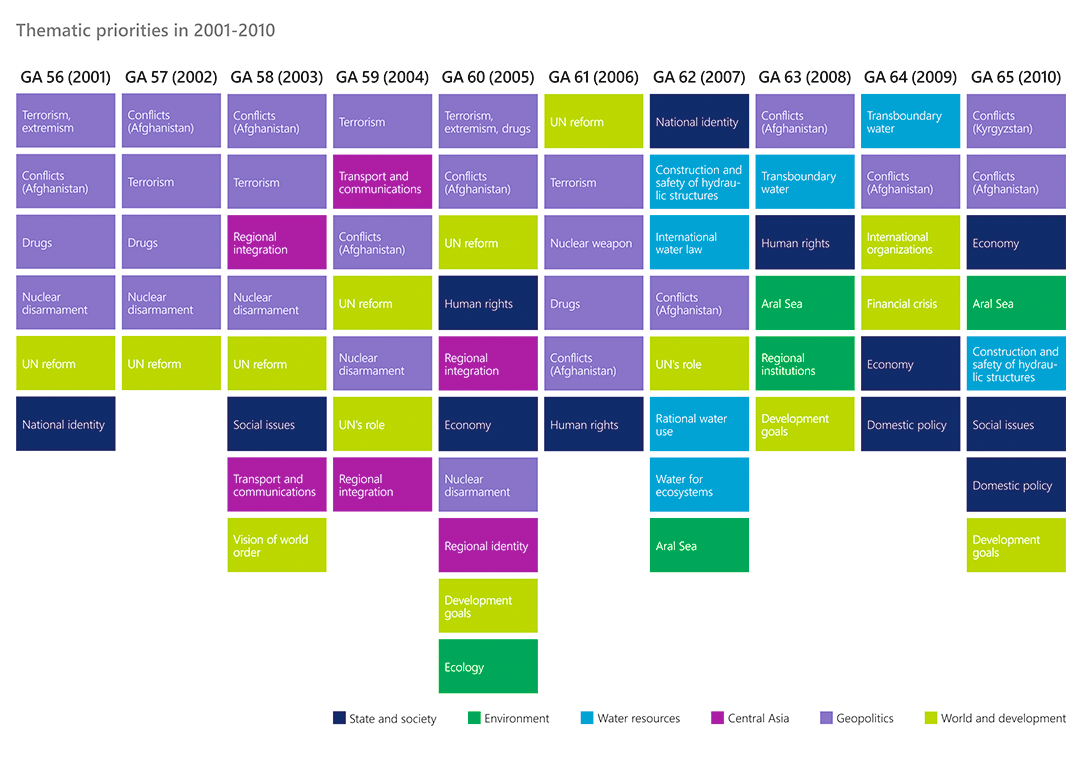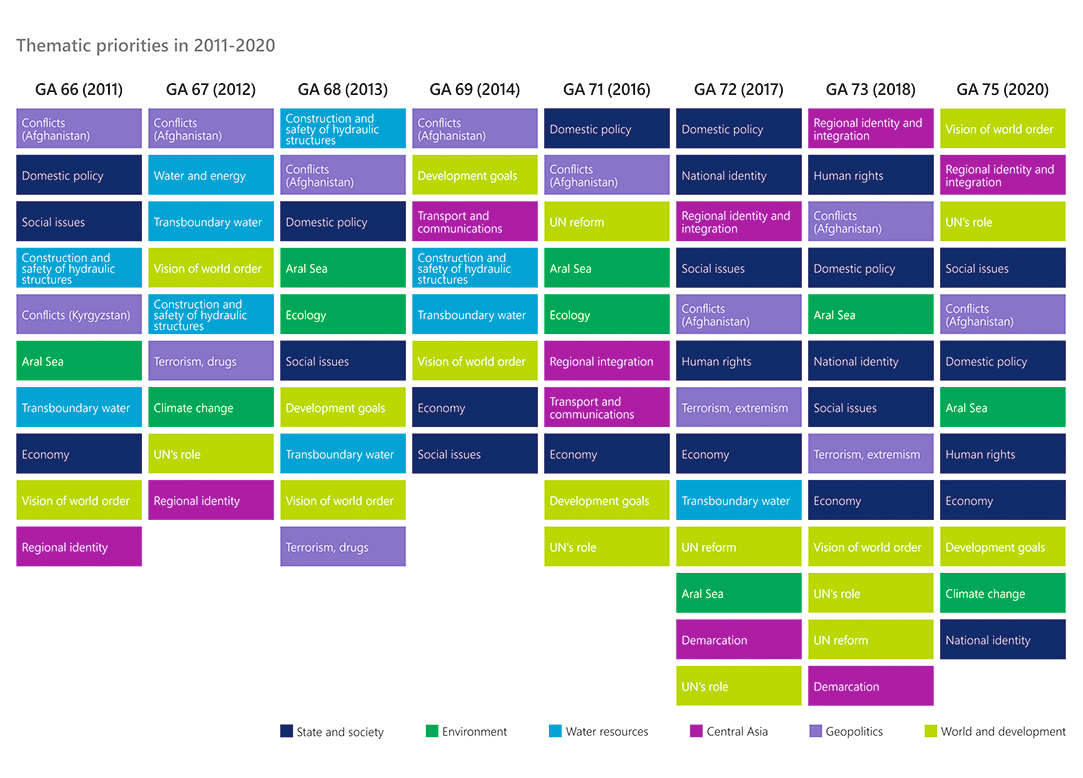 Key initiatives put forward by Uzbekistan
Establishment of a regional UN Eastern branch in Tashkent (47/1992)
Convening of a standing UN seminar on security, stability and cooperation in Central Asia (48/1993, 49/1994)
Declaration of the Central Asian region as a nuclear-weapon-free zone (48/1993 and all subsequent sessions till 2016)
Formation of a special UN commission on the Aral Sea (48/1993, 49/1994, 50/1995, 51/1996, 53/1998, 54/1999, 55/2000)
Establishment of a special UN Security Council group on analyzing and predicting of emerging international conflicts (48/1993)
Embargo on the sale of weapons, ammunition and other supplies to regions in conflict, including Afghanistan (49/1994, 50/1995, 51/1996)
Creation of a contact group from among the countries neighboring Afghanistan, as well as the United States, Russia and other interested states, together with representatives of inter-Afghan forces (52/1997, 63/2008, 64/2009)
Establishment of an international anti-terrorism centre under the auspices of UN (53/1998, 55/2000, 56/2001)
Establishment of a UN regional commission in Central Asia to coordinate joint efforts in combatting drug trafficking (48/1993, 53/1998, 54/1999, 58/2003, 59/2004)
Development of a special UN program for educational and awareness-raising work among youth to make young people resistant to extremist ideology and development and adoption of a UN convention on youth rights (58/2003, 72/2017, 73/2018, 75/2020)
Development, under the auspices of UN, of an International Code on voluntary obligations of states during the pandemics (75/2020)
Adoption of a special UN GA resolution on strengthening the role of parliaments in achieving SDG and securing human rights (75/2020)
Adoption of a special UN GA resolution on declaring the Aral Sea region an area of ecological innovation and technologies and marking of the date of adoption of this document as the International Day for Ecosystem Protection and Restoration (75/2020)
Establishment of a Regional Centre for the Development of Transport and Communications under the auspices of the United Nations (75/2020)
Holding of a Global Summit on poverty (75/2020)
Organization of an international conference on the ten-year results and forthcoming prospects of the regional Joint Action Plan of the Global Anti-Terrorism Strategy (75/2020)
Holding of the International Forum "Central Asia at the Crossroads of World Civilizations" in cooperation with UNESCO in the city of Khiva in 2021 (75/2020)
Establishment of a permanent UN commission to assist in socio-economic development of Afghanistan (75/2020)
Regarding environmental matters, Uzbekistan attracted attention of the world community to the Aral Sea problem, which posed a serious security threat to Central Asia and had global consequences. In particular, it is proposed to create a special UN Commission on the Aral Sea, which in agreement with the governments of the region and with the help of the UN would mobilize international forces and funds to solve this environmental tragedy. Uzbekistan expressed its belief in the importance of expanding cooperation and enhancing interactions between the UN and the International Fund for Saving the Aral Sea. In 2018, it was reported on the establishment of the UN Multi-Partner Human Security Trust Fund for the Aral Sea region in Uzbekistan. In 2020, a proposal was made to adopt a special resolution of the UNGA "On declaring the Aral Sea region a zone of environmental innovations and technologies and declare the day of adoption of this most important document as the International Day for Ecosystem Protection and Restoration " (75/2020).
Uzbekistan also paid attention to the joint use of common water resources in Central Asia and maintained the position that the issues related to transboundary water use in Central Asia should be addressed in line with the universally recognized norms of international law and within the framework of relevant UN conventions on the use of international watercourses. At the 72nd session of the UN General Assembly in 2017, the President of Uzbekistan supported the position of the Secretary-General that "the problems of water, peace and security are inextricably linked" and stated: "I believe that there is no alternative to solution of the water problem but to take into account equally the interests of the countries and people of the region".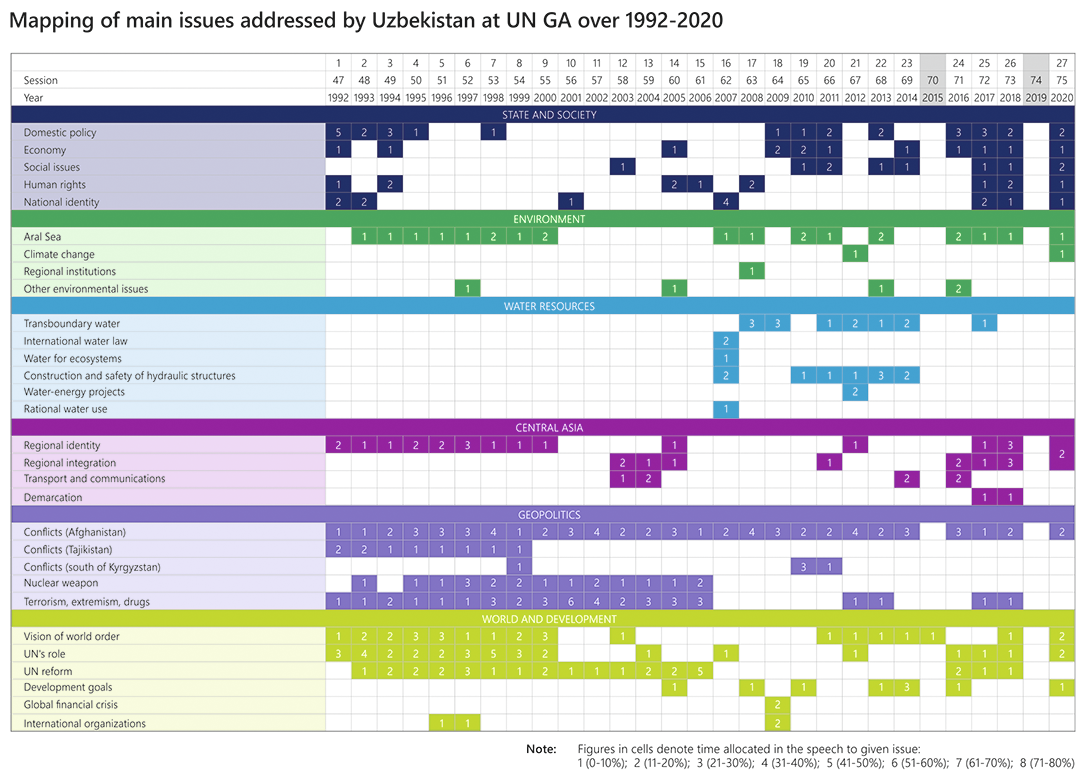 Experts' opinion
According to experts, the initiation and creation of a nuclear-weapon-free zone in Central Asia is the key advance of the Uzbek diplomacy in the UN. This is one of few initiatives on a regional scale that was implemented jointly by the region's countries and the guarantor countries. Lessons from this successful initiative can also be used to advance other issues on the regional development and security agenda.
Among the major risks that require more coverage from the UN rostrum, experts named geopolitical risks (guaranteeing the sovereignty of small and medium countries), cyber security (with special emphasis on cyber terrorism and cyber extremism threats), infrastructure, unemployment and large-scale migration problems, water and environmental security risks associated with increasing water scarcity, loss of biodiversity and man-made environmental disasters. It is important to pay more attention to linking risks from different categories, for example, the mutual influence of social, geopolitical and environmental risks, as well as climate change issues.
In experts' opinion, Uzbekistan's future work with the UN will focus on the implementation of measures to develop Central Asian integration. The UN GA should be a platform to demonstrate the unity of country initiatives and actions for enhanced development and prosperity in the region as an example to follow. It is also important to work together to ensure environmental security at the national, regional and global levels, to combat the threats of biological terrorism and the spread of biological/bacteriological weapons.
V. Dukhovniy:
"The main risk in the region is the growing water deficit, which is neither yet sufficiently understood by decision makers nor covered in mass media to prepare younger generation for living and work under conditions of water scarcity. In this context, permanent and unflagging awareness-raising and educational work is required to transform the current attitudes to water into those treating water as the sacred thing!"


V. Sokolov:
"In my opinion, the main success of Uzbekistan's diplomacy is to promote the priority of regional integration. It is peace and tranquility in Central Asia that should be the main concern of Uzbekistan and its neighbors".





B. Ergashev:
"First of all, this is ensuring environmental security at all levels: national, regional and global. Rejecting the policy of "ecological nihilism" and "ecological egoism". Cooperation, trust, and willingness to compromise".





A. Karimov:
"In future speeches the representatives of Uzbekistan at the UN GA should highlight the linkage of risks in different categories, such as the mutual influence of social, geopolitical and environmental risks. For example, the large-scale migration in Europe was caused by the water crisis in North Africa that led to food insecurity, which, in turn, fueled geopolitical problems".