Publications

National Documents - Republic of Kazakhstan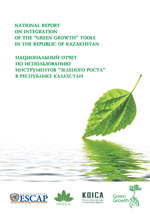 National Report on integration of the "Green Growth" tools in the Republic of Kazakhstan
The purpose of this publication is to inform the public about the "Green Growth" Concept, which was originally presented in 2005 in Seoul at the 5th Conference of Ministers of Environment of the Asia-Pacific region. The Report contains a methodology of the Concept, an assessment of eco-efficiency of national economy, an overview of the use of the "Green Growth" principal tools in Kazakhstan and recommendations on introduction of the "Green Growth" principles into the strategic planning system.

Download
National Documents - Kyrgyz Republic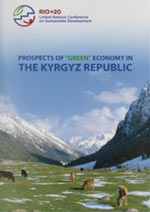 The Prospects for "Green" Economy in the Kyrgyz Republic
This paper was prepared on the eve of the UN Conference on Sustainable Development, which will be held 21-22 June 2012 in Rio-de-Janeiro, with an aim of providing informational support for participation of Kyrgyzstan in this event and reaching mutually beneficial agree-ments with the international community.

Download