Transboundary water management adaptation in the Amudarya basin to climate change uncertainties
Meeting on the Project (23 February 2017, Tashkent)
A meeting was held in the office of SIC ICWC on the 23rd of February 2017. The participants included Dr. Ingrid Verstraeten of the U.S. Geological Survey, Claire Thomas, Second Secretary from the US Embassy in Uzbekistan, Ekaterina Biryukova, Environment, Science, Technology and Health Assistant of the US Embassy in Uzbekistan, D.R.Ziganshina, A.G.Sorokin, G.V.Stulina, A.Galustyan, A.F.Solodkiy, I.Beglov, O.Usmanova, A.Nazariy, Sh.Sh.Mukhamedjanov, O.Eshtchanov, R.Tashpulatov, and R.Khafazov from SIC ICWC.
Dr. Verstraeten is the Chief of USGS International Programs in Europe, Russia, Central Asia, and Circum Arctic. An objective of her visit was to discuss the possibilities for scientific and technological cooperation in the areas of land reclamation and fishery restoration, drinking water availability in the Amudarya Delta, groundwater issues, geology and minerals, mitigation and adaptation strategies for climate change and other issues.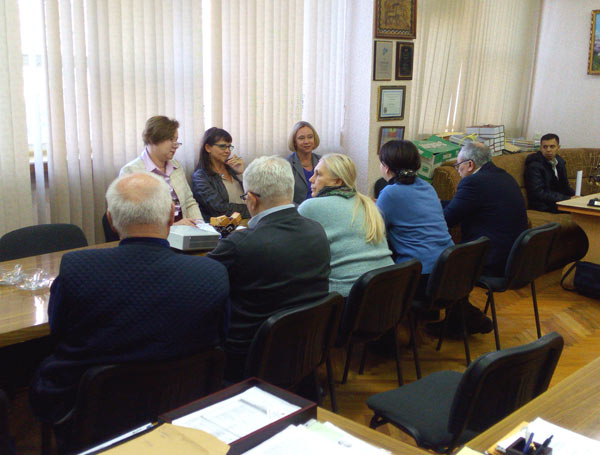 Presentation of preliminary project results
Mr. A.Sorokin has presented activities completed by SIC ICWC under the Project. Having thanked the reporter for such an interesting presentation, Dr. Verstraeten has recommended several sources of the data on the rivers flowing in Afghanistan. The U.S. Geological Survey was involved in the collection of data on the Pyandj River, and the data could be accessible through formal application to the Afghan party. She also proposed to refer to the FEWS.net Project, which covered Afghanistan and Tajikistan.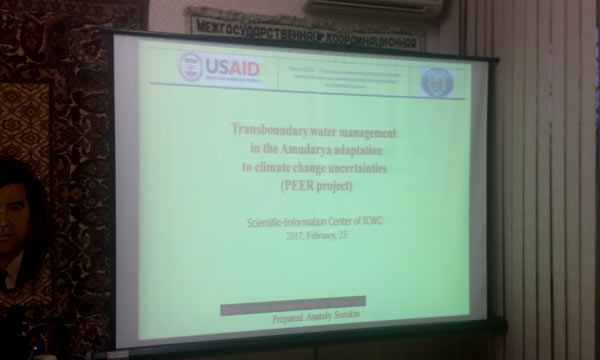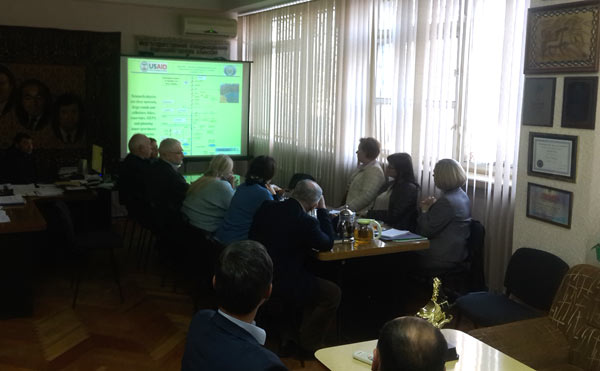 Discussion on potential scientific cooperation:
The U.S. Geological Survey is expecting approval of the funding for two projects, in which cooperation with SIC could be established:
Dissemination of the U.S. lessons on incorporation of climate into the agenda of governmental agencies. In particular, the Scientific Center for Climate was established at USGS.
The Cloud Computing Project, which would allow access to higher quality data on land and water resources.
SIC ICWC has proposed to continue work in the following areas:
Elaboration of the rules for Amudarya runoff regulation by hydropower cascade and run-of-the-river reservoirs in context of climate change and national economic plans.
Study of alternative long-term regimes for operation of Roghun HEPS (Vakhsh River) and Dashtidzhum HEPS (Pyandj River) to estimate benefits and risks for riparian countries (energy, irrigation, environment) in the Amudarya River Basin.
The representatives of the Embassy were also given a proposal on agricultural extension services presented earlier by SIC ICWC for possible financing by USAID.
The participants also addressed the issue related to gender network development in the Central Asian water sector. Taking into account SIC's experience, Dr. Verstraeten has requested to submit a conceptual note with relevant proposals on cooperation in this field.