Edward Burtynsky has long been one of TreeHugger's favorite artists. Known for his large-scale photographs documenting the many ways humans have left our mark on the natural landscape in unnatural ways, such as oil consumption, agriculture and mining, the Toronto-based photographer's latest collection is called Water and shows the role water plays in ecosystems, energy, cultural practices and disasters.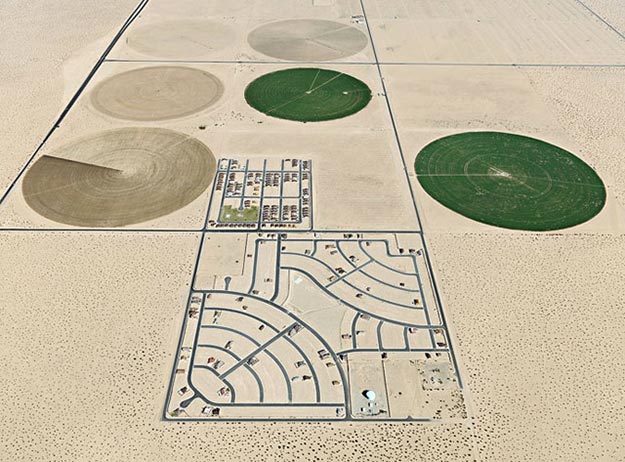 "While trying to accommodate the growing needs of an expanding, and very thirsty civilization, we are reshaping the Earth in colossal ways. In this new and powerful role over the planet, we are also capable of engineering our own demise. We have to learn to think more long-term about the consequences of what we are doing, while we are doing it. My hope is that these pictures will stimulate a process of thinking about something essential to our survival; something we often take for granted—until it's gone."
The project takes us over gouged landscapes, fractal patterned delta regions, ominously coloured biomorphic shapes, rigid and rectilinear stepwells, massive circular pivot irrigation plots, aquaculture and social, cultural and ritual gatherings. Water is intermittently introduced as a victim, a partner, a protagonist, a lure, a source, an end, a threat and a pleasure.Water is also often completely absent from the pictures. Burtynsky instead focusses on the visual and physical effects of the lack of water, giving its absence an even more powerful presence.
Water is currently on display at New York City's Bryce Wolkowitz Gallery and Howard Greenberg Gallery and in London at Flowers Gallery.
In addition to the collection of photographs, Burtynsky is telling the story of how "we shape water and water shapes us" in a book and a film. Here's a trailer from the feature-length film, Watermark, which opens across Canada on October 11th:
This looks amazing and in a time when drought, floods and water pollution are regularly making headlines in the news, it is a great time for Burtynsky to give us a new perspective on this precious resource.
Source: http://www.treehugger.com/
Dear User/Visitor! Please, answer on our questions: tick off one of the positions – your answer will make us able to improve our site and make it more interesting and useful!

Loading ...

Loading ...