It shouldn't be news to anybody that disposable plastic water bottles and the water that fills them are a bane to our planet. Some 38 billion plastic water bottles end up in landfills each year, and filling a one liter bottle takes three times that amount of water to produce.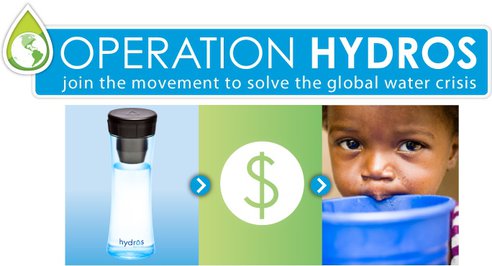 So it really ought to be a no-brainer that we should be using refillable water bottles for our own personal use. However, if you're concerned about the quality of water you use to fill yours, perhaps it's time to consider a personal water filter bottle – and not just any one, but one that will also help to fund the fight against the global water crisis by supporting sustainable water projects.How wasteful is bottled water? Take a minute to watch this quick overview:
One answer to the growing plastic bottled water issue is getting your own refillable container, such as the Hydros, which has a built-in filter and also helps fund water projects in places where access to clean water is a big problem.
The Hydros Bottle is a 16oz BPA and phthalate-free filtering bottle that is easy to fill, quick to filter, gets rid of bad tasting chemicals (reduces chlorine, chloramines and particulates) and ensures that the water you're drinking is free from bacteria. And what's even better than that, your purchase will help provide clean water for one person for an entire year!
"By purchasing your Hydros Bottle, you are joining Operation Hydros, the fight against the global water crisis. Not only does your bottle provide you with great tasting water on the go, each purchase helps fund sustainable water projects. Through these water projects, the proceeds of a single Hydros Bottle sold will provide clean water for someone in need for one whole year.
For our first project, we have partnered with Engineers Without Borders to deliver fresh water to the thirsting village of Gundom in Cameroon. Future water projects are currently underway, and will help guarantee the right to clean water for generations to come." – Hydros
Source: http://www.treehugger.com/
Dear User/Visitor! Please, answer on our questions: tick off one of the positions – your answer will make us able to improve our site and make it more interesting and useful!

Loading ...

Loading ...