Despite improvements in some regions, water pollution is on the rise globally. More than 80% of sewage in developing countries is discharged untreated, polluting rivers, lakes and coastal areas.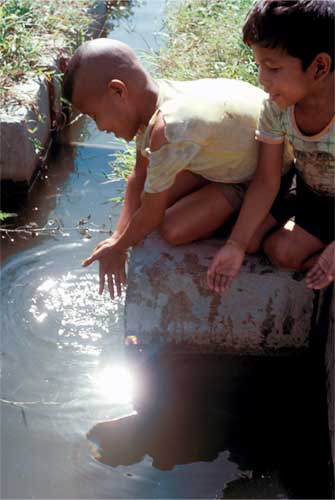 Many industries – some of them known to be heavily polluting (such as leather and chemicals) – are moving from high-income countries to emerging market economies.
Although rural populations in Asia are projected to remain stable over the next 20 years, urban populations are likely to increase by 60% before 2025, which affect prospects for water scarcity.
Globally, the most prevalent water quality problem is eutrophication, a result of high-nutrient loads (mainly phosphorus and nitrogen), which substantially impairs beneficial uses of water.
In 1998 approximately 90% of the coastal and marine biotopes in the Baltic Sea were threatened by loss of area or reduction in quality from eutrophication, contamination, fisheries and settlements.
Today, up to 70 million people in Bangladesh are exposed to water that contains more than the World Health Organization threshold value of 10 micrograms of arsenic per litre. Up to half the estimated 10 million tubewells in Bangladesh might be contaminated with arsenic.
Natural arsenic pollution of drinking water is now considered a global threat with as many as 140 million people affected in 70 countries on all continents.
A recent study on drinking water in France estimated that more than 3 million people (5.8% of the population) were exposed to water quality that does not conform to World Health Organization (WHO) standards (for nitrates, non-conformity was found in 97% of groundwater samples).
The section "Did You Know…?" is taken from the 3rd World Water Development Report "Water in a Changing World".