As non-governmental organisations question the relevance of the World Water Forum being held here this week and slam its 'corporate' nature, the United Nations says that a coordinated approach to managing and allocating water is critical.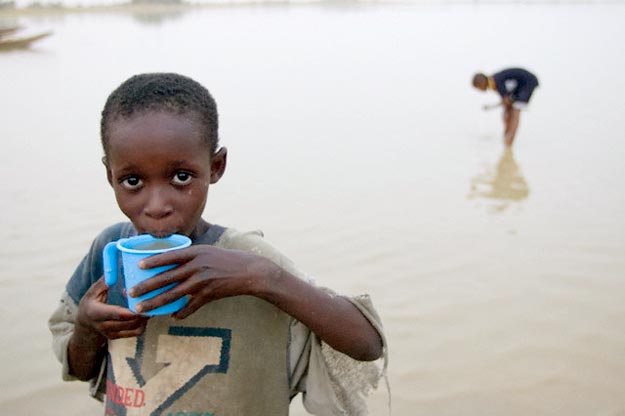 The fourth edition of the triennial World Water Development Report (WWDR), which brings together the work of 28 U.N.-Water members and partners is being officially launched Monday at the Forum. It stresses that water 'underpins all aspects of development' and needs to be a key element in global policies and regulations.
Titled 'Managing Water under Uncertainty and Risk', the comprehensive report paints a somber picture of what could result from failure to deal with water issues. Experts warn of increased political conflicts over resources, the endangering of future availability and reduction in economic and social welfare.
'We want to be optimistic but there are increased pressures on water that could make it less available for normal consumption, and that's the bleak picture,' said Dr. Olcay Ünver, coordinator of the UN World Water Assessment Programme which produced the report.
'The other side is that there's a lot that leaders of government and civil society can do, especially by working together to ensure sustainability,' he told IPS.
The stakes are high as more than one billion people lack access to safe water, and about 1.4 billion lack access to electricity (which can be generated through hydropower). With the world's population expected to reach 9 billion by 2050, demand for water will surge over the next decades, experts say.
The U.N. estimates that this demand could increase by 50 percent in developing countries and that more than 40 percent of states, mostly low-income countries or those in sub-Saharan Africa and in Asia, could experience severe freshwater scarcity by 2020.
The latest edition of the report coincides with the sixth World Water Forum, a meeting of 'stakeholders' including water and energy companies that runs until Mar. 17 and comprises 400 sessions.
NGOs meanwhile are organising their own alternative forum (the Forum Alternatif Mondial de l'Eau, or FAME) here, set to begin Wednesday and aimed at highlighting what they say is water privatisation's failure to serve communities around the world.
'The global water justice movement has been opposed to the World Water Forum for many years, since the first one was held in 1997, because we don't believe that it is a legitimate space to speak about global water policy when it's organised by corporations,' said Gabriella Zanzanaini, director of European affairs for Food and Water Europe.
'If you look at any other industry, usually policy is not set at a corporate trade show; it's set by governments, or at the U.N. level, but somehow for water, we have something called the World Water Council which has been doing the World Water Forum every three years,' she told IPS in an interview.
'We're doing our own forum because we want to show that another space is possible and that alternatives to privatisation and the solutions that are proposed inside the World Water Forum are also possible,' she added. 'Water is not the same as other resources, water is essential to life. It cannot be replaced by anything else.'
Zanzanaini said that water justice advocates don't believe that private companies should be 'dictating' or deciding what global water policy should be. Instead they would like to see real community involvement in water management.
For its part, the World Water Forum has created a new Grassroots and Citizenship Commission to 'contribute to citizen's solutions in favour of water', and many of the concerns expressed by NGOs are reflected in the U.N. report, which recommends cooperation and coordination between 'diverse stakeholders'.
The report says that even though the task of delivering water has traditionally been regarded as the responsibility of a certain sector, availability is now influenced by many factors, including climate change, that lie outside the direct control of water authorities.
'Ultimately, these issues can only be addressed in international forums,' the report states, adding that national governments need to work together to ensure the 'effective implementation' of international policies at country level.
'Under global conditions of increasing uncertainty and risk, concerted action must now be taken by water managers, leaders in government, civil society and business at local, basin, national and global levels,' the report's authors say.
A lack of coordination and agreement can lead to tensions when countries share rivers such as the Mekong in Asia, where the building of dams has affected wetlands and fisheries, says Alain Vidal, a French agricultural and environmental engineer who directs the Challenge Programme on Water and Food (CPWF).
The group says that further dam construction in the Mekong basin could damage fish-dependent communities in the region and exacerbate the existing problem of saltwater intruding into farmlands in Vietnam.
'The challenge will be to make sure that dams don't limit water and food security,' Vidal told IPS in an interview, ahead of participating in a high-level panel on a 'nexus' approach to water management.
Organised in association with giant French electricity company EDF, experts on that panel Friday will discuss how projects that tap water resources can be 'planned and executed with input from stakeholders in the food, water and energy sectors.'
'The world is now a very different place because addressing insecurities related to food, energy and water – particularly in the world's least developed countries – is now at the forefront of development strategies around the globe,' Vidal said.
Food security is also a main concern in the U.N. report, which states that the global demand for food is expected to increase by 70 percent over the next four decades, putting additional stress on water resources needed for agriculture.
 by A.D.McKenzie (marseille) Monday, March 12, 2012
Original source: Inter Press Service