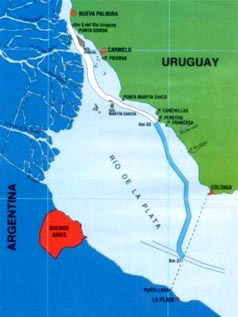 Extending over 3.1 million km2, La Plata River basin is the second largest river system in South America and the fifth largest in the world. Shared by Argentina, Bolivia, Brazil, Paraguay and Uruguay, it covers about one-fifth of South America. With over 100 million inhabitants, close to 50 big cities and 75 large dams, La Plata River basin is at the core of the region's socio-economic activities, which generate around 70% of the per capita GDP of the five basin countries.
With its extensive geographic coverage, La Plata River basin is highly variable topographically, ranging from 4,000 metre high mountains in north-western Argentina and southern Bolivia to almost sea level southern plains in Argentina and Uruguay. Rainfall similarly varies, from less than 700 mm per year in the western Bolivian highlands to more than 1,800 mm per year along the Brazilian coast in the east.
In terms of freshwater potential, the Parana River is the most important in La Plata River basin, with a mean annual flow of about 17,100 m3 per second (m3/s) at Corrientes. The Uruguay River has a mean annual flow of about 4,300 m3/s, while the Paraguay River has the lowest capacity, with a mean annual flow of some 3,800 m3/s at Puerto Pilcomayo.
The basin is also rich in groundwater resources. The Guarani aquifer, shared by all five countries except Bolivia, is one of the world's largest groundwater reservoirs, extending over 1.19 million km2 and having an estimated capacity of 37,000 billion m3. Of this, 40 billion m3 to 80 billion m3 per year is exploited, mainly in Brazil for consumption in over 300 cities.
Source: http://www.unesco.org/