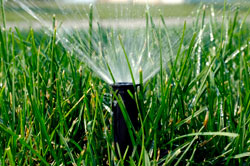 With the State Water Resources Control Board considering action to extend the soon-to-expire emergency water conservation regulations for another 270 days, ACWA has provided recommendations supporting the extension and suggested additional improvements.
ACWA Special Projects Manager Dave Bolland presented ACWA's recommendations during a State Board meeting held Tuesday to discuss the role of the emergency regulations in light of the state's ongoing drought emergency.
Those recommendations include:
Clarifying that mandatory outdoor irrigation limits should be equivalent to a twice a week irrigation schedule.
Considering additional water use prohibitions such as prohibiting outdoor watering during rain events, prohibiting outdoor watering during daylight hours to avoid excessive evaporative loss, requiring restaurants, hotels, and all public places where food is sold to only serve drinking water only upon customer request, and requiring hotels to offer guests the option to reuse towels and linens.
Continuing and increasing attention on public education, especially through the Save Our Water program.
Continuing current reporting requirements, but with voluntary submission of 2007 data to provide greater understanding of pre-drought water use.
Engaging with DWR and its Urban Stakeholder Committee to identify potential permanent conservation actions.
Avoiding state regulated water rates and considering opportunities for funding targeted research, pilot projects and funding incentives.
State Board staff presented a summary of comments that have been received on recommended next steps.  The presentation "Emergency Water Conservation Regulation Input and Potential Next Steps" is available here.
Board members indicated that they want a draft of the emergency regulation incorporating changes ready for possible action at the March 17 meeting. Board members also indicated their intention to address the need for permanent regulations, additional reporting requirements, and ways to engage on other water conservation recommendations as part of a process that will proceed in April.
ACWA's comment letter is available on its website here.
ACWA also provided the State Board with a list of examples illustrating the wide variety of actions being taken by local water agency actions in preparation for another dry year.
Source: http://www.acwa.com/
Dear User/Visitor! Please, answer on our questions: tick off one of the positions – your answer will make us able to improve our site and make it more interesting and useful!

Loading ...

Loading ...