Every day in the United States more than 240 million people turn on their faucets in order to drink, bathe, and cook, using water from public water systems. But more people are arriving to the point where they will not let a drop of water touch their lips in their own homes unless that water comes from a bottle shipped from a fresh water source.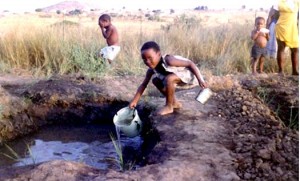 And even then we still have trouble in the home. Researchers at the University of Texas found that showers and dishwashers liberate trace amounts of chemicals from municipal water supplies into the air [i].
"The frog does not drink up the pond in which he lives." – American Indian Proverb
Squirting hot water through a nozzle, to produce a fine spray, increases the surface area of water in contact with the air, liberating dissolved substances in a process known as "stripping." So if we want to avoid those chemicals drinking bottled water is not enough. Chemically sensitive individuals would also have to wear a gas mask in the shower, and when unloading the dishwasher if they want to avoid chemical contamination. And even then the skin will absorb directly in the shower chemicals like fluoride so we cannot assume we are safe from the contaminants even if we are drinking pure water. The majority of people still take the purity of their tap water for granted when they shouldn't.
When we look deeper we can see that even in a rich country like the United States, we all have reason to be concerned about not only drinking, but even bathing in water that comes from public treatment systems. Albuquerque, Fresno, and San Francisco are examples of cities that have water that is sufficiently contaminated so as to pose serious potential health risks to pregnant women, infants, children, the elderly, and people with compromised immune systems, according to Dr. David Ozonoff [ii]. What we find in these waters are contaminants that occur with surprising regularity, regardless of location, such as chlorination by-products, lead, and coliform bacteria. Other contaminants, such as Teflon and rocket fuel occur less frequently but pose major health concerns. If we include the fact that fluoride is actually poisonous we have water that is slowly killing some Americans and depressing the health of almost everyone who drinks and showers in it.
And the problems with water just do not end. In August 2005 we learned that common household brass plumbing fixtures may release far more lead into drinking water than previously believed. As a result, even new homes built with brass fixtures like ball valves and water meters could end up with potentially unsafe lead levels. In a report trumpeted by the National Science Foundation, Virgina Tech researchers charged that the standards used to certify the brass plumbing supplies found at most hardware stores may be inadequate to predict lead contamination of water. This contradicts years of assumptions that lead contamination primarily comes from old leaden pipes or public water systems with lead contamination problems [iii]. Contrary to popular belief, many plumbing supplies sold today are not lead-free but contain up to 8 percent lead content in brass fixtures [iv]. Lead makes brass and other metals more malleable, helping manufacturers create intricate shapes.
The consequence though is extraordinarily high for exposure to lead in drinking water which results in delays in physical and mental development, along with slight deficits in attention span and learning abilities. In adults, it can cause increases in blood pressure. Adults who drink this water over many years could develop kidney problems or high blood pressure according to the American EPA [v]. The Romans had their engineers turn the populace into neurological cripples when they started using lead in their water systems but they did not have to deal with either fluoride or mercury. The three together, mercury, lead and fluoride become a kind of devil's triangle of chemical toxicity that is only made worse by aluminum and a host of other hostile chemicals that are clogging up our bodies.
Water pollution by drugs is an emerging issue that is extremely important. Pharmaceuticals are now attracting attention as a whole new class of water pollutants. At the recent American Chemical Society conference, Chris Metcalfe of Trent University in Ontario reported finding a vast array of drugs leaving Canadian sewage treatment plants. Padma Venkatraman, a postdoctoral fellow at Johns Hopkins concluded that antidepressants, anticonvulsants, anticancer drugs and antimicrobials are among the pharmaceuticals most likely to be found at "toxicologically significant levels" in the environment.
These drugs and many more [vi] are finding their way into public water systems because pharmaceutical industries, hospitals and other medical facilities as well as households dispose of unused medicines and even human excreta can contain incompletely metabolized medicines. Millions of doses of prescription drugs that Americans swallow annually to combat cancer, pain, depression and other ailments do not disappear harmlessly into their digestive systems but instead make their way back into the environment where they may contaminate drinking water and pose a threat to life, according to researchers at John Hopkins medical center.
These drugs pass intact through conventional sewage treatment facilities, into waterways, lakes and even aquifers. Discarded pharmaceuticals often end up at dumps and land fills, posing a threat to underlying groundwater. And farm animals also are a huge source of pharmaceuticals entering the environment because of the massive use of hormones, antibiotics and veterinary medicines used in their care. Along with pharmaceuticals, personal care products also are showing up in water. Generally these chemicals are the active ingredients or preservatives in cosmetics, toiletries or fragrances. For example, nitro musks, used as a fragrance in many cosmetics, detergents, toiletries and other personal care products, have attracted concern because of their persistence and possible adverse environmental impacts. Some countries have taken action to ban nitro musks. Also, sun screen agents have been detected in lakes and fish.
It is hard to tell which is worse, the toxic chemicals and drugs that are leeching into the public water systems or the noxious chemicals deliberately put in the water by public health officials. Standard water treatments result in health threats yet health officials are loath to admit any problem that we should beware of. Chlorination of drinking water supplies virtually eliminates most disease or bacterial contamination, but creates traces of several toxic by-products in drinking water — such as chloroform, trihalomethanes and other chlorinated organic compounds. In recent years municipal water districts across the United States are changing the way they disinfect public water supplies. Many are adding ammonia to chlorinated water to produce chloramines [vii], or chloraminated water. They are doing that in order to meet standards set by the U.S. Environmental Protection Agency (EPA). While chloramination has been used as a way to lower the level of carcinogenic disinfection byproducts (DBPs) created by chlorination, it has led to extreme water toxicity. Chloraminated water kills fish and reptiles and there is no reason to believe it is safe for human consumption.
"I almost died," Denise Kula Johnson of Menlo Park said the day after chloramines were added to her water supply. "I was in the shower and suddenly I could not breathe. I passed out on the floor. I was terrified."
"The government is hiding the fact that the drinking water is not usable," says medical scientist Dr. Winn Parker who tells us that the most at-risk groups from chloraminated water are the fetus in the first trimester, children to age three, people over age 60 and those with human immunodeficiency virus (HIV). Women in the 35-45 age group are at risk of recurring rashes on the inner thighs and chest, he added. Parker is calling for government funding of alternative disinfection methods, such as ultra-violet and reverse osmosis, which would make harmful chemical disinfection methods obsolete. "We need to amend the Constitution," Parker said, "to give the people in each state the right to vote on what goes into their water."[viii] A recently discovered disinfection byproduct iodoacetic acid, found in U.S. drinking water treated with chloramines, is the most toxic ever found according to Dr. Michael J. Plewa, a genetic toxicology expert at the University of Illinois [ix].
"Individuals who consume chlorinated drinking water have an elevated risk of cancer of the bladder, stomach, pancreas, kidney and rectum as well as Hodgkin's and non-Hodgkin's lymphoma." [x] – Dr. Michael J. Plewa
When Washington DC changed in 2000 to chloramines, this newly treated water reacted with the lead in the pipes to poison the drinking water. Lead levels were found in Washington's water 3,200 times the EPA's "action level" and 4,800 times the UN's acceptable level for the toxic heavy metal. Americans have been conditioned to believe that the problem with lead has mostly disappeared but nothing could be further from the truth. According to the Washington Post, "In New York City, the nation's largest water provider has for the past three years assured its 9.3 million customers that its water was safe because the lead content fell below federal limits. But the city has withheld from regulators hundreds of test results that would have raised lead levels above the safety standard in two of those years."[xi]
"The drinking water lead crisis in Washington D.C. poses serious public health risks to thousands of residents of the national capital area, and casts a dark shadow of doubt over the ability, resources, or will of federal and local officials to fulfill their duty to protect our health," said Paul D. Schwartz, National Policy Coordinator, Clean Water Action [xii].
After switching to chloraminated water, children in Washington ingested more than 60 times the EPA's maximum level of lead with one glass of water [xiii].
Jim Elder, who headed the EPA's drinking water program from 1991 to 1995, said he fears that utilities are engaging in "widespread fraud and manipulation. It's time to reconsider whether water utilities can be trusted with this crucial responsibility of protecting the public. I fear for the safety of our nation's drinking water. Apparently, it's a real crap shoot as to what's going to come out of the tap and whether it will be healthy or not."
Cities across the country are manipulating the results of tests used to detect lead in water, violating federal law and putting millions of Americans at risk. – Washington Post [xiv]
Underground aquifers can become contaminated with bacteria and viruses because of insufficient topsoil layers to filter rainwater as it trickles down to recharge the groundwater. Livestock manure, human sewage sludge, fertilizers, weed killers [xv] and pesticides seep down into groundwater supplies. The intensification of agricultural practices — in particular, the heavy use of fertilizers and pesticides — has had a huge impact on water quality. The main agricultural water pollutants are nitrates[xvi], phosphorus, and pesticides. Rising nitrate concentrations threaten the quality of drinking water, while high pesticide use contributes substantially to the direct poisoning of our water supplies.
The Netherlands National Institute of Public Health and Environmental Protection (RIVM, 1992) concluded that "groundwater is threatened by pesticides in all European states." WHO (1993) has established drinking water guidelines for 33 pesticides but an awareness is growing that in all matters water related we are not being protected from serious harm. There really is no limit to the concerns and chemicals that make drinking public water a bad idea.
There really is no end to the serious problems with tap water that are being seriously underestimated. The National Academy of Sciences has concluded that arsenic is so dangerous in drinking water that stringent levels set by the Clinton administration and later suspended by the Bush White House were not strict enough. For decades, the Environmental Protection Agency set an acceptable arsenic level of 50 parts per billion in drinking water. But recent studies suggested that this level was too high and increased the risk of bladder and lung cancer. A report by the National Academy of Sciences in 1999 said the standard should be made stricter "as promptly as possible." President Bill Clinton ordered the limit to be lowered to 10 parts per billion in 2006 and scientists doubt if even this low level of concentration is safe [xvii].
Author: Mark Sircus Ac., OMD
Source: http://www.naturalnews.com/