The development of a simple point-of-use water filtration technology by researchers at the Indian Institute of Technology Madras (IITM) is said to be effective for producing drinking water at a low-cost, using nanomaterials to filter and clean the water.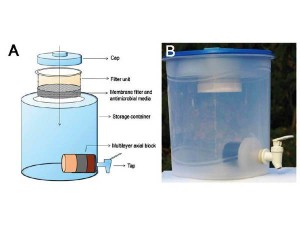 The new device, which is not yet under production, uses a two stage process to purify the water, first removing biological contaminants such as bacteria and viruses, and then using silver nanoparticles to remove chemical and heavy metal pollutants.
The filtration system is claimed to be able to remove lead, arsenic, and other hazards from water, at a cost of just $2.50 (USD) per year per family.
The critical problem in achieving this is the synthesis of stable materials that can release silver ions continuously in the presence of complex species usually present in drinking water that deposit and cause scaling on nanomaterial surfaces. Read more