Water is not confined to political borders. An estimated 148 states have international basins within their territory (OSU, n.d., 2008 data), and 21 countries lie entirely within them (OSU, n.d, 2002 data).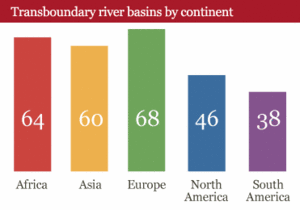 There are 276 transboundary river basins in the world (64 transboundary river basins in Africa, 60 in Asia, 68 in Europe, 46 in North America and 38 in South America).
185 out of the 276 transboundary river basins, about two-thirds, are shared by two countries. 256 out of 276 are shared by 2, 3 or 4 countries (92,7%), and 20 out of 276 are shared by 5 or more countries (7,2%), the maximum being 18 countries sharing a same transboundary river basin (Danube).
46% of the globe's (terrestrial) surface is covered by transboundary river basins.
148 countries include territory within one or more transboundary river basins. 39 countries have more than 90% of their territory within one or more transboundary river basins, and 21 lie entirely within one or more of these watersheds. Read more