The drought in India has become so severe that people have begun literally fighting over water in many regions of the country, even murdering each other over the precious substance.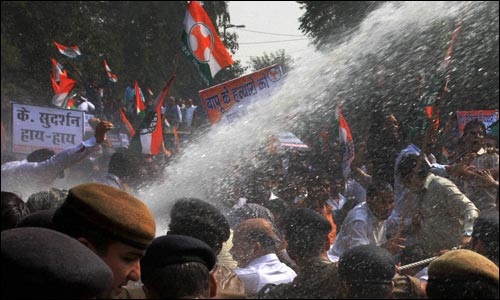 Northern India is in the grips of a drought so severe that in Bhopal, the City of Lakes, the government has been forced to ration water use to half an hour once per three days. Nearly two million people live in this massive city, where the 1,000-year old artificial Upper Lake has shrunk from 38 square kilometers (15 square miles) to a mere five square kilometers (two square miles). 
Almost 100,000 Bhopal residents live without water hookups of their own, relying on water tankers that travel throughout the city. Fights are common when the tankers arrive in a slum, with people jostling each other for the best chance at the limited water supply. In unregistered slums, water tankers never arrive and residents may have to hike two kilometers (one mile) or more to the nearest pumping stations.
It was in one such unregistered slum that the Malviya family drilled a hole into a municipal water pipe, and traveled there shortly before the water began flowing one night, to collect the liquid in whatever containers they could get their hands on. The family was confronted by a group of neighbors, including a local man named Dinu who accused them of blocking the pipe and cutting off water farther down the hill. Dinu slapped Gyarasi Malviya, and when her son Raju tried to interfere, one of the people gathered drew a sword. In the ensuing clash, all the Malviyas were hacked to death.
"We were too afraid to do anything," said a woman who identified herself as Shanno. "Dinu didn't want them to take any water. He wanted it for himself."
The situation in Bhopal and across northern India may offer a glimpse of the world's future. The United Nations has warned that by 2050, four billion people will find themselves living in areas with an insufficient water supply.
Source: http://www.naturalnews.com/