Global warming will cause rainfall and water supplies in the West to drop drastically in the next 25 to 50 years, especially in the Southwest, according to a new report by the U.S. government.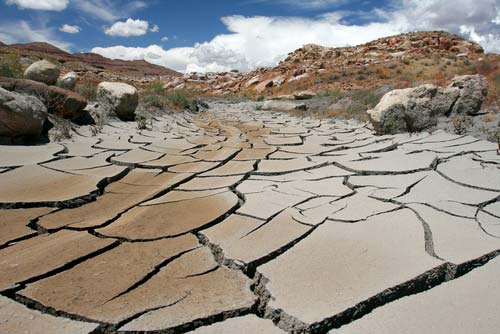 The new study focused on the next 50 years, in which changes in the emissions of greenhouse gases will not have time to affect the shifts in climate that are already occurring. While it is important to reduce emissions in the long term, the report's authors emphasized, the short-term changes predicted are likely to occur no matter what.
Due to rising global temperatures, water flow from rainfall is expected to drop by 20 percent across large areas of the West, and even more in the already dry Southwest. Water flow is expected to increase by 20 percent or more, however, in the East and Midwest.
The reference point used in the study was rainfall and water runoff between 1901 and 1970.
In addition to a reduction in the total amount of fresh water, patterns of water availability will also shift: As mountain glaciers and snowpacks melt and are not replenished, seasonal snowmelt will cease being a major source for surface water across much of the West. Instead, more water will come from rainfall, but in way and times that make it difficult to store that water for the rest of the year.
The lack of water is expected to have significant effects on everything from agricultural and ecosystem health, to the ability of fast-growing regions like the Southwest to sustain their current pace of development.
Drought is only one of the changes predicted by the report, which is available at climatescience.gov. For example, the researchers also predicted that corn and soybeans will mature faster due to rising temperatures, but that overall yields will be reduced as hotter summers make pollination failure more likely.
Source: http://www.naturalnews.com/