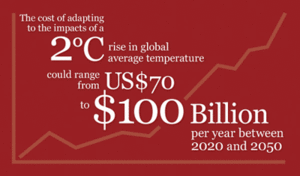 The IPCC predicts with high confidence that water stress will increase in central and southern Europe, and that by the 2070s, the number of people affected will rise from 28 million to 44 million. Summer flows are likely to drop by up to 80% in southern Europe and some parts of central and Eastern Europe. Europe's hydropower potential is expected to drop by an average of 6%, but rise by 20–50% around the Mediterranean by 2070 (Alcamo et al., 2007).
The cost of adapting to the impacts of a 2°C rise in global average temperature could range from US$70 to $100 billion per year between 2020 and 2050 (World Bank, 2010). Of this cost, between US$13.7 billion (drier scenario) and $19.2 billion (wetter scenario) will be related to water, predominantly through water supply and flood management.
Pollution
The treatment of wastewater requires significant amounts of energy, and demand for energy to do this is expected to increase globally by 44% between 2006 and 2030 (IEA, 2009), especially in non-OECD countries where wastewater currently receives little or no treatment (Corcoran et al., 2010).
Pollution knows no borders either. Up to 90% of wastewater in developing countries flows untreated into rivers, lakes and highly productive coastal zones, threatening health, food security and access to safe drinking and bathing water Over 80% of used water worldwide is not collected or treated (Corcoran et al., 2010).
Cooperation, a contrasted reality
There are numerous examples where transboundary waters have proved to be a source of cooperation rather than conflict. Nearly 450 agreements on international waters were signed between 1820 and 2007 (OSU, 2007).
Over 90 international water agreements were drawn up to help manage shared water basins on the African continent (UNEP, 2010).
Source: http://www.unwater.org/
Dear User/Visitor! Please, answer on our questions: tick off one of the positions – your answer will make us able to improve our site and make it more interesting and useful!

Loading ...

Loading ...