British photographer Joel James Devlin has produced a series of enchanting night images of lakes, streams, and the shore in southern England, by making long exposures at night with a film camera. In the image above, Devlin shot a small light-emitting diode (LED) light floating on the surface of a lake for about 40 minutes. (See "Photographing the Night Sky.")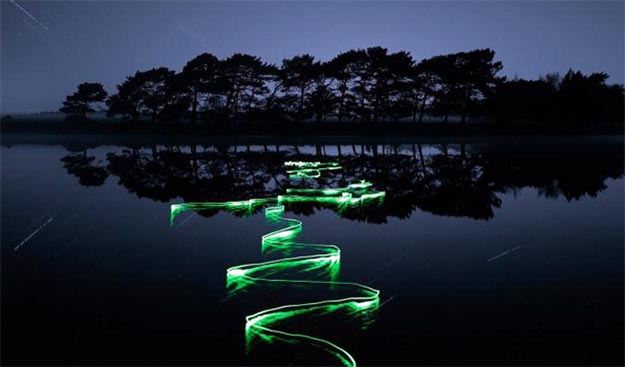 Devlin told National Geographic he made most of the photos in the series during the winter months, when the sky was darker and the weather was a bit more turbulent. Devlin said he has long experimented with night photography.
"Someone had given me a little LED light that was used for landing helicopters. It was a bizarre little contraption, but it was water immersible," Devlin said.
"Each weekend I'm drawn to the sea [because] I'm a keen surfer, and one evening I wondered what would happen if I got this light into the surf and tracked it for a while," he said.
Devlin improvised a little flotation device for the light. Over six weekends, he tried photographing the light in the waves, but he wasn't happy with any of the exposures. He said there was too much motion in the water.
"So I went back to all the places where I would play as a kid on holiday, little streams really, and played with tracking this light downstream at twilight," he says. "I would rediscover new places, go location scouting for new vistas, and find different types of waterways."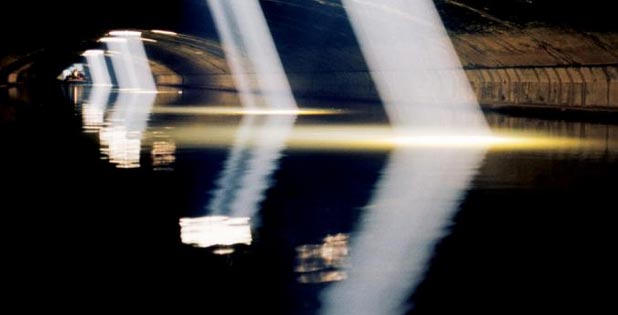 Source: http://news.nationalgeographic.com/
Dear User/Visitor! Please, answer on our questions: tick off one of the positions – your answer will make us able to improve our site and make it more interesting and useful!

Loading ...

Loading ...