The Earth Observatory Web site of NASA is a vital portal, not only providing data that help scientists clarify global conditions and trends but also reminding people, once in awhile, of the special nature of this pale blue (and green) dot.
Today's images show the scope of two unfolding disasters — involving excessive fire and water — related to extreme climate conditions that are projected to become more frequent in a heating world.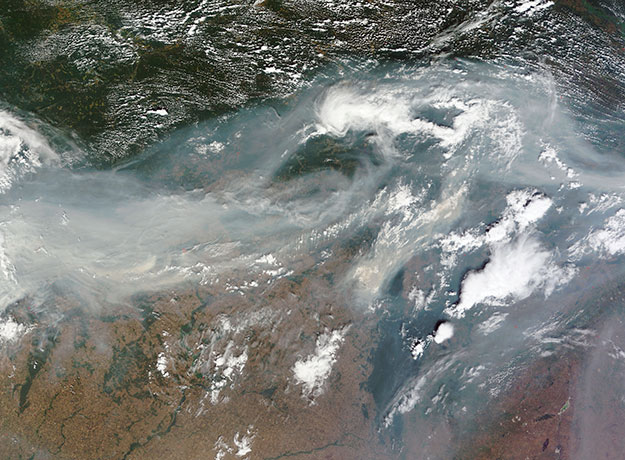 The fires sweeping parched, baked peat bogs and forests in western Russia have raised a vast smoke pall captured by NASA satellites. (See similar images of Canada's smoke pall to get a sense of the severity of the Russian blazes.)
At the same time, NASA has posted images of the Indus River valley in Pakistan vividly showing the scope of severe flooding, the worst in 70 years, that has displaced several million people. The first image below is of the region in a normal condition for this time of year, and the second is of the conditions on August 2. Look carefully at the blue patches:
It sure would be nice if the budgets for satellite programs aimed at tracking conditions on the home planet were secure, given the importance of such data as the human growth spurt crests. But that would require a public, and Congress, attuned to the reality that, henceforth, global is the new local. I'm not sure we're there yet.
Source: http://dotearth.blogs.nytimes.com/
Dear User/Visitor! Please, answer on our questions: tick off one of the positions – your answer will make us able to improve our site and make it more interesting and useful!

Loading ...

Loading ...