Mustafah Abdulaziz travels the world documenting water consumption.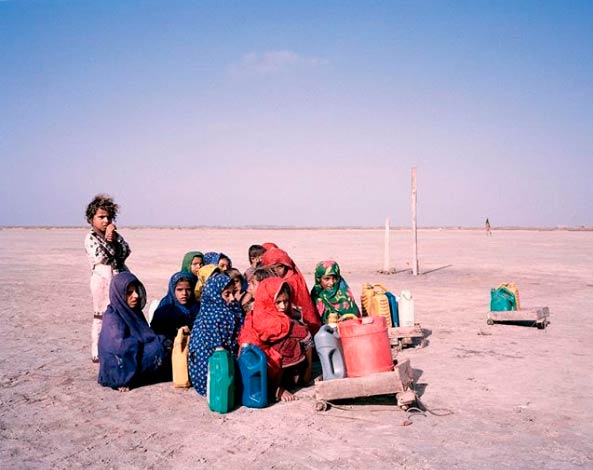 From a solitary woman drawing water from an open pit in Somalia to dozens of New York City residents evading the summer heat in a massive municipal swimming pool, Mustafah Abdulaziz's photography captures how people interact with water around the world.
Abdulaziz was born in New York City and resides in Berlin, Germany, but his project "Water" has compelled him to travel to several countries, including India, Iceland, and Sierra Leone, to document how human beings use, abuse, and depend upon on water.
He began taking photos for "Water" in 2012 and has since received support from various organizations, including the United Nations, WaterAid, and Google, according to his website.
Abdulaziz's photographs often reveal huge disparities in water access across the world as well as the water use priorities of different societies. Worldwide, more than 2 billion people do not have access to reliable drinking water.
Many of the photos included in "Water" illustrate that reality.
The project deserves special attention on World Water Day, an international observance designed to highlight the threat that climate change poses to water accessibility, the burden on girls and women when it comes to collecting water, and other issues inhibiting achievement of Sustainable Development Goal Number 6, universal access to clean drinking water.
Prolonged drought — like the one that has diminished the water supply in Cape Town, South Africa — and heavy storms that cause flooding and contamination, are just two of the climate change-related hazards affecting world water systems.
In the US, scientists predict that nitrogen runoff from industrial and agricultural areas will cause toxic algae blooms that render 19% of the country's water sources undrinkable. And in China, an algae bloom has already covered much of Lake Taihu, which provides water for 30 million residents.
By the end of the 21st Century, climate scientists predict that rising sea-levels may displace at least 13 millions people living near US coastlines.
In one photo, an emaciated child is seen sitting atop a bed at a UNICEF malnutrition and dehydration treatment center in Somalia. In another, a striking aerial photo, a lush golf course appears amid an expanse of brown California desert.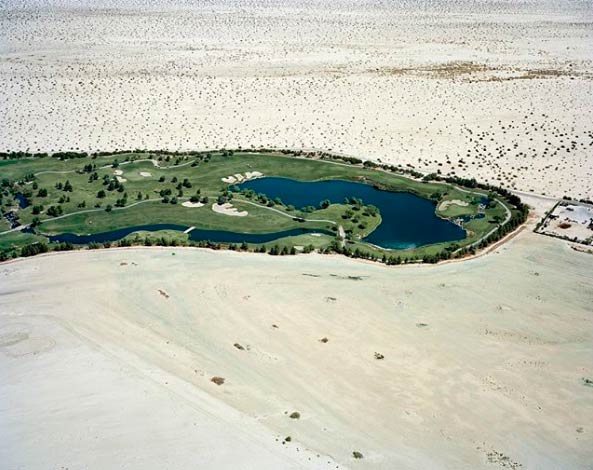 In a photo reminiscent of the golf course shot, a small patch of forest sits amid a barren Brazilian landscape. In this stunning example of human manipulation of water and environment, farmers razed much of the surrounding rainforest in order to raise cattle.
In addition to environmental degradation and water contamination, many of Abdulaziz's photos depict the disproportionate role girls and women play in fetching and transporting water for their families and communities.
In fact, 80% of water-deprived households depend on women to collect water, the United Nations reports. In countries like Cote d'Ivoire and Nepal, the task often requires hours-long journeys by foot. Women and girls fetch the water and lug it back in heavy containers so that their children, siblings, and parents can stay hydrated, but this often means they can't pursue their own interests and that girls miss out on studying and, in some cases, miss school.
In one photo, a pregnant woman in Ethiopia maneuvers down a steep, rocky trail while gathering water to make beer for men to celebrate the birth of her child, reflecting a burden similarly felt by many women worldwide.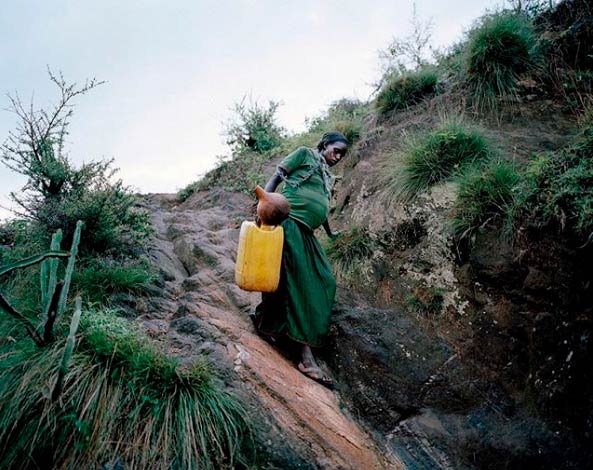 But despite the crucial role that water plays in enabling human life, many people living in developed countries fail to realize that water is imperiled, Abdulaziz told NPR.
"People tell me they don't even realize that water issues exist," Abdulaziz told NPR. "That itself is a huge issue, and something that made me have water as a subject."
Source: https://www.globalcitizen.org/
Dear User/Visitor! Please, answer on our questions: tick off one of the positions – your answer will make us able to improve our site and make it more interesting and useful!

Loading ...

Loading ...